Upskill Enterprise, skills experts and partners in the GAP project, were invited to attend the annual European Credit System for Vocational Education & Training (ECVET) conference in Rome on 11 October, where they took the opportunity to tell delegates from across Europe about GAP. The conference focused on 'Flexible pathways to vocational skills' which is a key aspect of the developments planned in GAP.
The Annual ECVET Forum is the place to gather information, and exchange views and experiences on how ECVET principles can help to provide all citizens with opportunities for open, flexible and individualised pathways to develop vocational skills and to get recognition for them. To facilitate active participation and open discussions, the Forum was divided into three thematic sessions:
• Session 1: background information to meet the challenges that ECVET helps address
• Session 2: what solutions are there already, and what solutions still need to be developed
• Session 3: how to step up ECVET processes for future challenges and help to ensure success
Upskill Enterprise participated to all parts of the Forum explaining that Gaming for Peace (GAP) will develop a new model in peacekeeping curriculum development. They went on to explain; this includes a review of the current best practices and analysis of stakeholder experiences, a base from which to build a range of scenarios, characters and game mechanics for serious game learning. This begins the process of iterative curriculum development with constant evaluation throughout the project, and once the game is used in training, providing a continuous feedback loop shaping the ongoing curriculum during, and beyond, the GAP project.
What particularly stood out to the audience of ECVET national experts and European Commission leads was GAP's exciting plans to benchmark curriculum to international standards, and in turn through the development of clear learning outcomes and assessment protocols within the game mapped to both ECVET and Europass principles, provide a 'Skills Passport' of recognition for peacekeepers to take with them as they progress their careers.
Many of the Forum attendees were interested in the planned curriculum process but also the use of gamification as a delivery method, a form many have increasingly heard of but have not seen in practice. The GAP consortium hope to present a project update and findings to date at the next Annual Forum in 2017.
©Upskill Enterprise Ltd.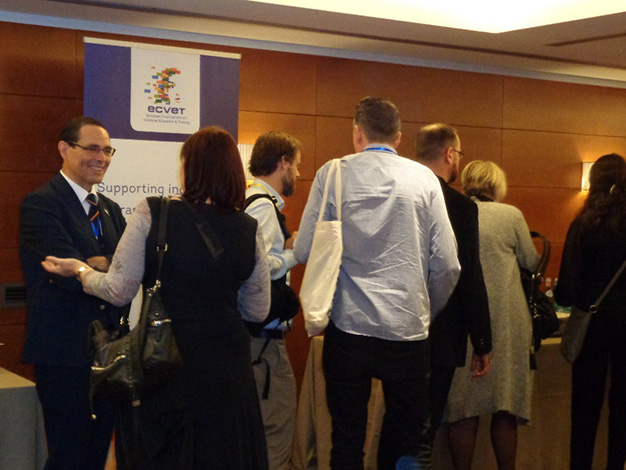 ©Upskill Enterprise Ltd. Antonio Mir, Forum Speaker and Principal of XABEC Vocational College, talking to delegates